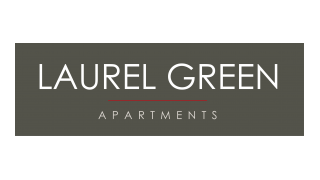 Your Review
Submit a Review

Resident Reviews
Definitely what I was looking for
|

Recommended: Yes
Great Experience|Recommended: YesMy experience here has been great. I've lived her for almost 4 years. I have great friendly neighbors in my building. We love the pool. The staff are always nice. I would definitely recommend, anyone looking for a great place to live. This is a great area, many stores close by- some within walking distance.
A nice place to live.|Recommended: YesThe complex is quite and everyone keeps to them self and is friendly. Prices are not bad. The actual apartment it self is brand new and is modern.
Quality Living, Minor Drawbacks|Recommended: YesLaurel Green has good quality living in a great location. The staff is really helpful and courteous, as well. Only downsides are that parking spots are limited later in the day for the buildings at the back of the community and a small number of the residents are disrespectful to the community e.g. littering, poor parking, being loud late at night, etc. . Overall, really good place to live for the price.
Comfortable, and safe community |Recommended: YesI really enjoy living here. My apt. has a great layout, spacious and updated. Maintenance is here immediately if there is a problem and the staff is friendly and accomodating. No complaints. Only one minor thing... the walls are a little thin and you can sometimes hear your neighbors. Other than that, it's a great place to live.
Beautiful Place to live|Recommended: YesWould absolutely recommend this to anyone looking for an apartment. Staff always cheerful helpful. Maintenance staff have great availability if needed. Having on-site storage units is an absolute plus
Great, luxury apartments|Recommended: YesDefinitely quiet and safe place to live. Beautiful apartments. The staff are always efficient, available, and fast
Satisfied Tenant|Recommended: YesThe front office staff is awesome It is the type of service they provide that I expect when I'm renting an apartment. Always friendly, know who I am and always willing to help out. I'm also pleased with the layout of the grounds and apartment. Just the other day I walked outside with my dogs only to be greeted by a family of deer. It definitely made my day.
Absolutely love living here|Recommended: YesThe community is very friendly and respectful and the employees are all very friendly and prompt in their responses. Very professional and well run.
Great|Recommended: YesI love it , only thing i hate is the parking. Wish they would have assigned parking
Great place to call home |Recommended: YesBest quality for high end apartment complex. I feel safe at all times and happy to call this place home.
I love the property|Recommended: YesI would tell then that I love living here. The neighbors over me are pretty loud all the time but other than that, I am very pleased
Great community to call home|Recommended: YesI have been a resident here for 2 years and I really like living here. Some of the reasons I like living here are 1. New apartments with condo home like finishes you can't find elsewhere in the area 2. Staff is always friendly and actually care about you as a resident instead of just another person to collect rent from. 3. I am on the ground floor and I hardly ever hear my neighbors upstairs. 4. Social events throughout the year. 5. Very safe community and very family oriented. The only con I have is parking. Sometimes its hard to get a spot by your building but there is plenty of spaces. It's just not being regulated. I wish they had assigned parking here, which would easily fix the parking. But at the end of the day you are in an apartment complex so its not the end of the world. After 2 years I thought about leaving, and I looked at a few places which were not as nice and the staff was like you really want to leave and tried to get me to stay After considering it, I ended up deciding to stay. I am in a 1 bed office and really can't find any decent places with the same square footage and high-end finishes. I felt I made the right decision because when I told the leasing staff to cancel my move out notice they were very happy for me to stay, and I felt it was genuine. So if you are looking for a great place to live in Mount Laurel and want to be part of a family like community, look no further than Laurel Green
Fantastic|Recommended: YesI love living here The buildings are new and beautiful. The appliances are efficient. I love that every apartment has an outdoor patio area. The pool is saltwater, but is in he shade after around 4 5pm. The fitness center is clean and tidy. The staff are knowledgeable, friendly, and helpful. Parking is abundant. I rarely hear any of my surrounding neighbors. I feel safe living here, especially with the interior stairs leading up to my apartment and the locking call box system at the front door.
Nice New Apartments|Recommended: YesOverall, the apartments are really nice and rather new. For the most part it's pretty quite area and is well maintained. The only complaint I have is that I wish we had assigned parking. Finding a good parking space near your apartment can be a challenge if you are unable to get home before 8 00pm.